International Mission Teams: Team members needed in Ecuador!
Have you always wanted to go on a mission team, but maybe your church didn't offer the opportunity? Or, perhaps you have just been waiting for the right opportunity? SIFAT can help! Several of our scheduled mission teams to Ecuador need additional team members. Below, you will find dates of teams already going. If you are interested in leading a team from your church or community, we still have available weeks. Contact Peggy Walker, team coordinator, at walkerp@sifat.org or 256.396.2015 if you are interested in joining a team.
Teams needing members:
6/16-6/23 – Faith UMC from the Birmingham area
6/22-6/30 – Shady Grove UMC, Muscle Shoals, AL
6/30-7/8 – Multi-church team led by Bill Etheridge, Aldersgate UMC, Huntsville
(Check back later this week for more teams and weeks that need teams.)
Evangélico Church in Puengasí in March 2011 before construction began. The addition is being built in the courtyard area.
Project Summary:
SIFAT needs many construction/VBS teams to serve in Puengasí, outside of Quito, on the Niños con Esperanze (Children with Hope) project. SIFAT teams will help build the facility to provide classrooms for at-risk children sponsored by Compassion International to provide a safe palce for them to be mentored after school every day. The building will be connected to a church pastored by a SIFAT alumnus. The children will be given lunch and tutored in their school subjects and spiritual formation. On this project, SIFAT team members will be working alongside members of the Evangélico Church in Puengasí and provide a VBS for the children in the community.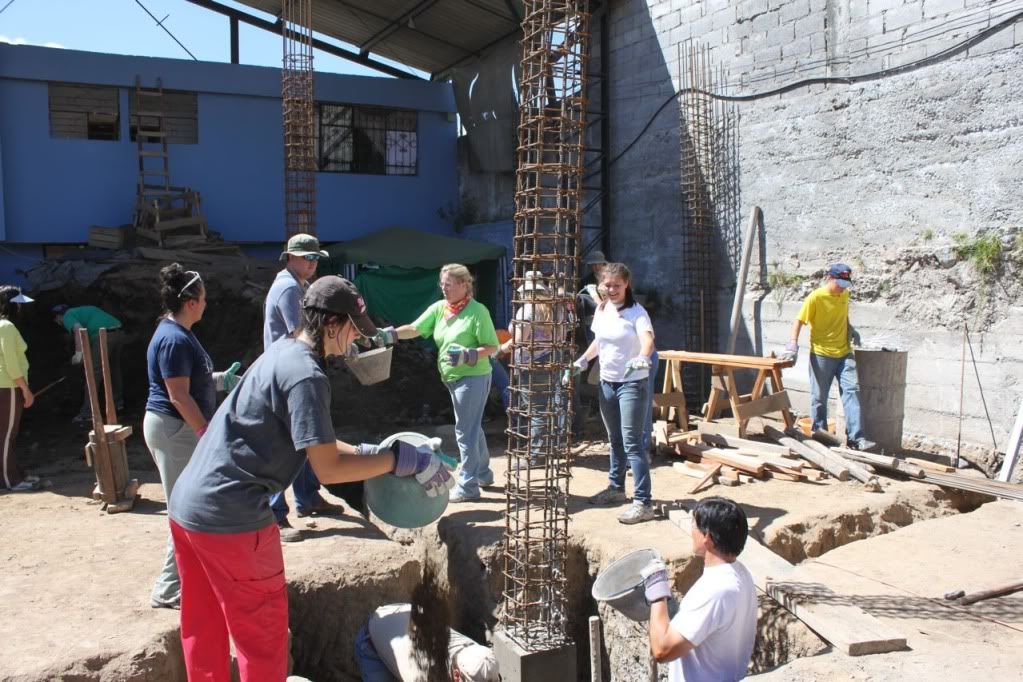 Team members begin pouring footings for the new building in July 2011.
Logistical Information:
Cost per person:
$850 in-country expenses, $850-$1500 approximate r/t airfare
$2500 team construction funds (or $100 per person, whichever is greater) or $125 per person for health training fund (medical teams only)
$50 each additional day, plus tourist day activity costs.
Additional Information:
Doctors and nurse practitioners are also needed on several medical teams this year. Contact Peggy Walker, team coordinator, at walkerp@sifat.org or 256.396.2015 if you are interested in joining a teamTo learn about other short-term mission team opportunities with SIFAT, download a project summary and pricing PDF.