Training – Field Study: International Night
Our May Field Study is currently being held on SIFAT's campus May 12-25. Sarah Murphree, SIFAT co-founder Sarah Corson's great-niece, is a participant this year. She will be blogging about her experience and giving readers a glimpse of what types of appropriate technologies and community development topics are being presented, as well as a look into who some of the participants are.  A 2012 graduate of the University of Tennessee, Knoxville, Sarah recently directed and produced two short films, one taking first place in the 2013 Nashville Film Festival. She is currently working on her third film, a documentary about Camp Koinonia.
One activity that takes place during the training program is international night. On this night, students from different countries prepare a native dish. This year during international night, students enjoyed a diverse meal of foods from Haiti, the Congo, Honduras, Bolivia and the Philippines. This was one of my favorite nights in training so far. It was a wonderful evening that I wish everyone could experience one day.
It is one thing to try new foods, but it is a whole other experience to watch internationals cook, serve and talk about their native dishes, while dining with them. It was an experience filled with cherished moments I hope to never forget. I watched as international students took over the kitchen, sharing spatulas and bowls with one another. The Hondurans rolled dough on the kitchen counter, laughing as they passed flour to Eva from Bolivia to make her quinoa bites. Lillian from the Congo and Marie Lourde from Haiti washed fresh vegetables in the sink, while Lester filled a cooler with chopped ice for a drink he was making. Here was one kitchen filled with people from all over the world sharing utensils and working side by side. It defied all social rules and cultural norms. Can people from different countries really get along? Can people with language barriers interact peacefully? Can individuals from around the world converse without fighting, cook together and share a meal with one another?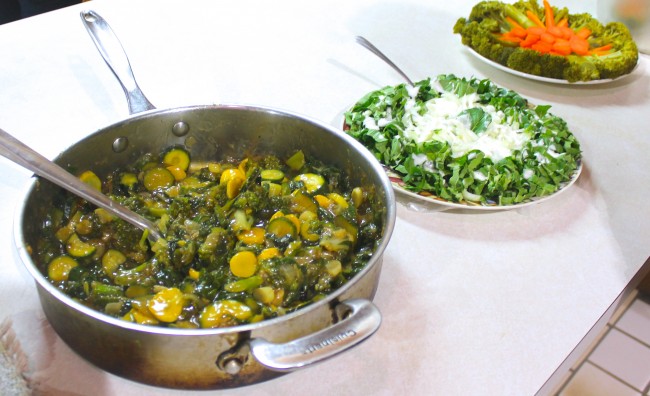 The answer is yes. As we sat around eager to try the authentic foods before us, listening to sweet tribal music, I was in awe. Here was a room filled with people from all around the world laughing, interacting and sharing a meal together. The room was filled with so many different cultures, backgrounds and religious affiliations, yet we were all getting along. No matter what society says about varied cultures, we were proving the impossible was possible. If we could come together without fear or confrontation with one another then maybe one day the rest of the world could, too.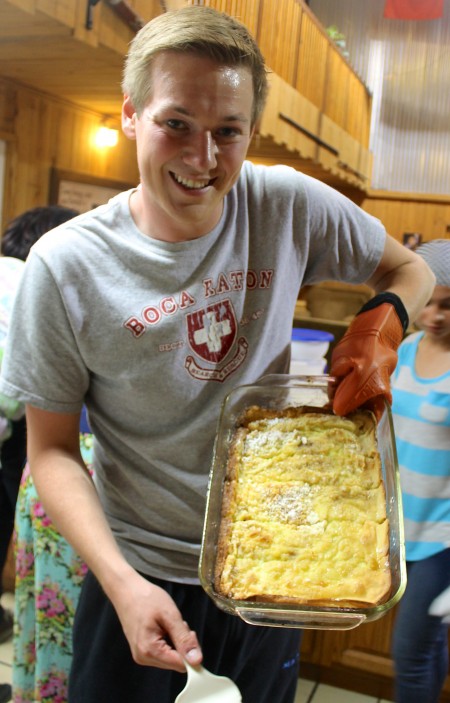 Below is our one-of-a-kind dinner menu you won't see anywhere else. While I can honestly say I enjoyed everything I tasted, my insightful taste buds speak below.
The Menu
Drinks
Pinol – Honduras
Quinoa Drink – Bolivia
Appetizer
Kazabe Honduras
Quinoa Soup – Bolivia
Quinoa Bites – Bolivia
Main Course
Baleadas – Honduras
Side Dishes
Congo Salad – Congo
Mixed Vegetables – Philippines
Rosquillos – Honduras
Dessert
Pannu Kakku – Finland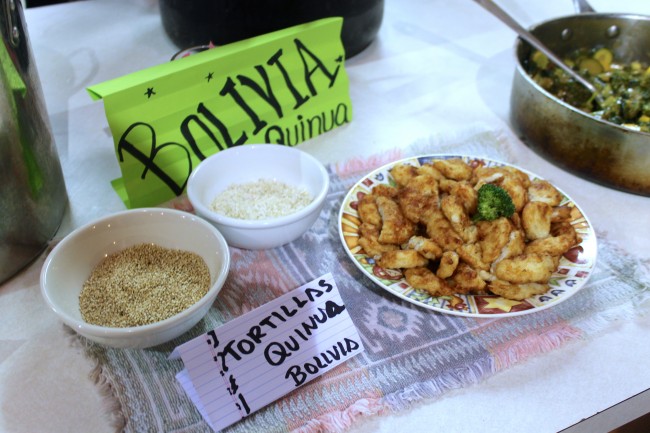 The Taste Buds Speak
Drinks
Pinol – This drink is simply delicious. It tastes like a rich glass of chocolate milk. It is the perfect blend of sweet and chocolate and can be served warm or cold. The drink is made with corn flour, cocoa and sugar.
Quinoa Drink – Quinoa is a popular grain used in many recipes in Bolivia. The drink was a creamy mixture, with a taste like a thick cinnamon spiced apple cider.
Appetizer
Kazabe– I could not think of a more perfect comparison than pita chips. Now if only there was a scoop of humus to go with it.
Quinoa soup – This was a light soup similar to Campbell's chicken and rice soup, but with a homemade taste better than any canned soup.
Quinoa Bites – These were a big hit, perhaps because they tasted like crab cakes, but more so for the reason they were fried. Bolivia meets the South.
Main Course
Baleadas – These are similar to a taco and often served with scrambled eggs inside. The Hondurans prepared ours with bean paste and sour cream, but the best part was the fluffy tortillas they made by hand.
Side Dishes 
Congo Salad- This was made with Chinese cabbage, a staple in Congo, mixed with salt, pepper and grilled onions. It tasted just like spinach, but with a sweeter taste cooked to perfection.
Mixed Vegetables – This side dish from the Philippines was as simple as it sounds, but the main component were the added flavors. The vegetables were mixed with garlic, soy sauce and chili powder. I have a whole new love for the taste of chili powder.
Rosquillos- If you like Girl Scout shortbread cookies than you will love these. The taste is almost the same, but the facts will blow your mind. These cookie-like bites are actually made with cheese and corn.
Dessert
Pannu Kakku- This flaky dessert is a cross between a crepe and pound cake. It was a perfect ending to the night pilled high with toppings of powdered sugar, strawberries and preservatives. Need I say more.