Worship on the Water 2020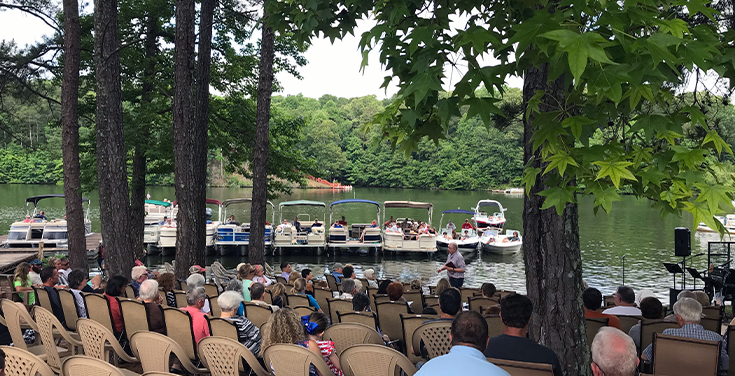 We're looking forward to seeing you this summer … but a little later than usual!
The health and safety of our speakers, musicians, boaters, golf cart people, land lovers and SIFAT staff are at the forefront of our decisions for this summer's Worship on the Water (WOW) schedule. SIFAT is following guidelines from the WHO, CDC, the Alabama Department of Health and local authorities to make plans for WOW.
This week, we made the difficult decision to postpone the start of WOW. We are canceling the first two weeks, and we will make another announcement on June 1, as we continue to monitor conditions in our county and state. When we get to meet again, there will be a new look to WOW as we implement safety precautions, so please check our posts on social media (Facebook or Twitter) and see updates on this post.
Please help us spread the word with your friends and family who make WOW part of their weekends on Lake Wedowee. Come by boat, come by car, come as you are … just not on Memorial Day Weekend this year!
About the Service
WOW is a nondenominational worship service held from Memorial Day Weekend through Labor Day Weekend on Lake Wedowee and is sponsored by SIFAT. Each week features different speakers and musicians. Bring your friends and family under the pine trees or on the water at Lakeside Marina at 9 a.m. each Sunday – we'll see you there!
2020 Schedule
Click here to download a PDF version
May 24 – Canceled
May 31 – Canceled
June 7 – Jimmy Yates / Pardoned
June 14 – Sallie Shaw / Witness 4 Him
June 21 – Jon Tal Murphree / TBA*
June 28 – Carey Akin / Jerry Rogers
July 5 – George Mathison / Homegrown
July 12 – Janice Clark / Barry Waldrep with Guest
July 19 – Jamey Walls / Wedowee FBC
July 26 – Greg Brown / Fellowship
August 2 – Jacob Wilkerson / Bear Creek UMC Choir
August 9 – Blue Vardaman
August 16 – Holly Woodall / TBA
August 23- Jon Brennan / Sylacauga FUMC
August 30 – Josh Hickman / Joyful Sound
September 1 – Billy Coleman / Clearvision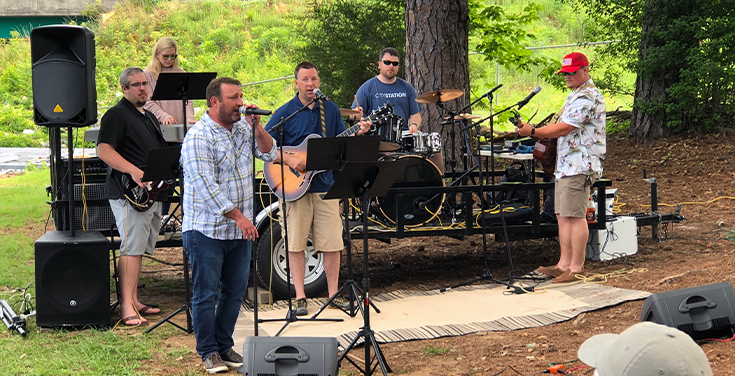 FAQs
What to wear?
It's casual – you don't need to dress up! Be comfortable.
Where to park?
Please do not park in front of the boat ramp or block the storage buildings.
What if it rains?
If it rains, we meet on the covered porch at the marina!
What if it's hot?
Please take a WOW fan to use during the service, but remember to return it to the basket when we finish.
How to get in touch:
Call 256.396.2015 during the week or e-mail wow@sifat.org. Follow SIFAT on Facebook and Twitter for Sunday morning updates.