Worship on the Water 2021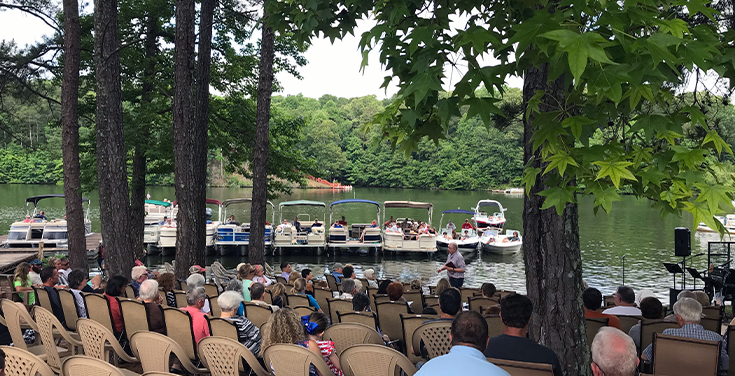 We're back! Worship on the Water at Lake Wedowee this summer …
After having to cancel WOW last year, we are so excited to be looking forward to seeing you in a few short weeks. It actually feels like summer now that we're looking forward to WOW. Please help us spread the word that we will kick off the summer on May 30 – Memorial Day Weekend – at 9 a.m. under the pines at Lakeside Marina. Come by boat, come by car, come as you are!
We are implementing some new protocols this year to help keep everyone at WOW healthy and safe.
Chairs will be set up in groups of two and four at a proper distancing. Please do not rearrange them. Feel free to bring your own chairs and space out, too.
Please wear a mask until you are seated.
We will have two welcome stations – one by the dock and one near the bleachers. Hand sanitizer will be available, as well as a basket for donations. Feel free to pick up a fan to use, which we will sanitize each week.
Come by boat, come by car, come as you are!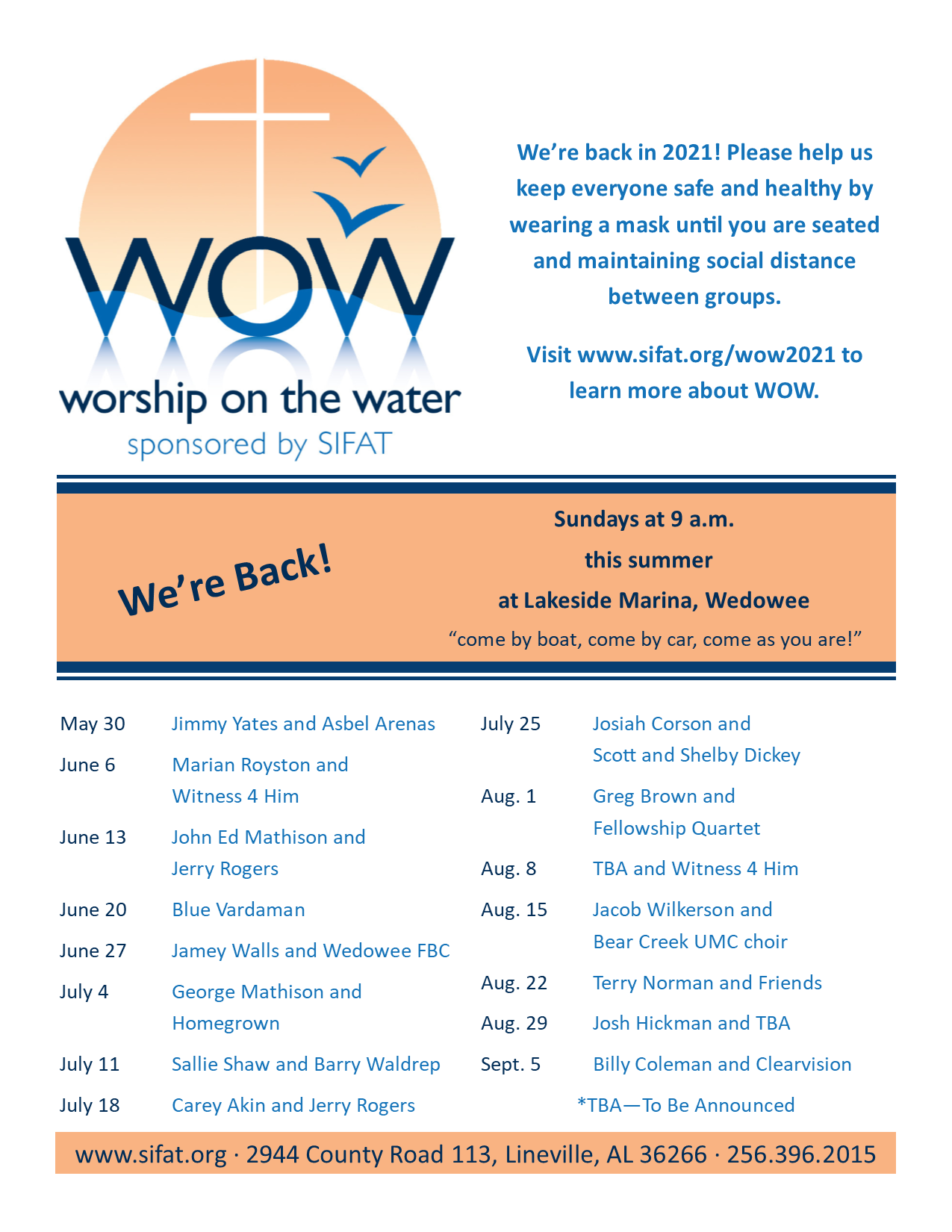 2021 Schedule of Speakers/Musicians
| | | |
| --- | --- | --- |
| May 30 | Jimmy Yates | Asbel Arenas |
| June 06 | Marian Royston | Witness 4 Him |
| June 13 | John Ed Mathison | Jerry Rogers |
| June 20 | Blue Vardaman | Blue Vardaman |
| June 27 | Jamey Walls | Wedowee FBC |
| July 04 | George Mathison | Homegrown |
| July 11 | Sallie Shaw | Barry Waldrep |
| July 18 | Carey Akin | Jerry Rogers |
| July 25 | Josiah Corson | Scott and Shelby Dickey |
| Aug 01 | Greg Brown | Fellowship Quartet |
| Aug 08 | TBA | Witness 4 Him |
| Aug 15 | Jacob Wilkerson | Bear Creek UMC |
| Aug. 22 | Terry Norman | Terry's Friends |
| Aug. 29 | Josh Hickman | TBA |
| Sept. 5 | Billy Coleman | Clearvision |
*TBA – To Be Announced
FAQs
What do I wear?
WOW is outside, so dress casually and comfortably.
Where do I park?
Where to park?
Please park outside of the fence enclosure and enjoy a short walk to the water, if you are able. There is limited space close to the water, so please reserve these spaces for those who need it most. Do not park in front of the boat ramp or block the storage units.
What if it rains?

We still have WOW! Look for us on the side porch of Lakeside Marina.
Questions or need more information?
Call 256.396.2015 during the week or e-mail wow@sifat.org. Follow SIFAT on Facebook and Twitter for regular updates about SIFAT and WOW.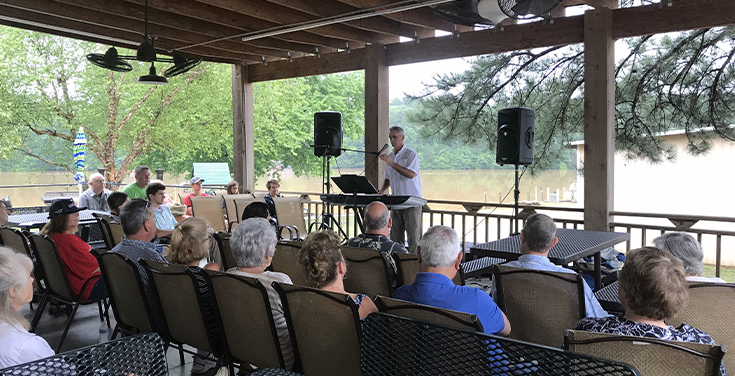 Special Thank Yous
WOW is sponsored by SIFAT, but we could not make this happen every week without the help of others.
Thank you to Lakeside Marina for allowing us to use their parking lot weekly and porch for rainy days.
Thank you to Lake Wedowee Docks for clearing your work area and moving docks each week.
About the Service
WOW is a nondenominational worship service held from Memorial Day Weekend through Labor Day Weekend on Lake Wedowee and is sponsored by SIFAT. Each week features different speakers and musicians. Bring your friends and family under the pine trees or on the water at Lakeside Marina at 9 a.m. each Sunday – we'll see you there!
Donate to SIFAT/WOW
If you would like to donate to SIFAT/WOW, please use the button below. (remember SIFAT's legal name is Southern Institute for Appropriate Technology).